As an American Outlaw, I bleed red white and blue. Mexico are our biggest rivals, and it is a very passionate one. The two teams are the powers of CONCACAF, we share a border, and they absolutely hate eachother on the field. Since their first meeting in 1934, Mexico has dominated this rivalry sporting a 33-15-12 record in 60 matches. However, since 2005, the teams share a 4-4-2 record against eachother, proving the intensity of this rivalry. The last time these two got together was August 10th of last year when they drew 1-1.
But the match everyone remembers is the Gold Cup title game only a month and a half before in the Rose Bowl in front of 93,420 fans, 70% supporting Mexico.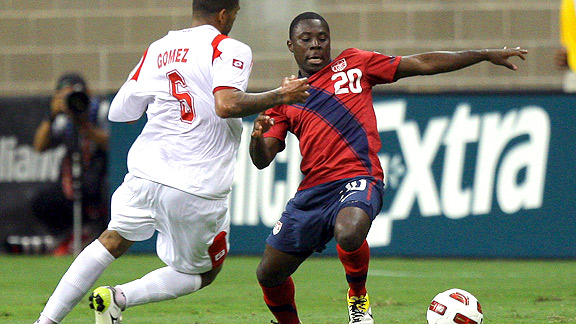 The main story leading into the game was the resurgence of Freddy Adu. Having seemingly disappeared from the soccer world, he was a shock substitution in the semifinal vs Panama, and immediately made an impact. His scintillating pass to Donovan who found Dempsey for the only goal of the match earned him an unexpected start in the final.
All looked great when the US sprung out to a 2-0 lead behind Landon Donovan and Michael Bradley strikes within 23 minutes. However, six minutes later Pablo Barrera tallied and Andres Guardado struck seven minutes later to go into halftime level. The second half would be some of the most intense football I've ever watched. Five minutes after the break, Barrera got his brace to make it 3-2. Both teams looked poised to win it in a tight back and forth game, before Gio Dos Santos scored one of the goals of the year, and maybe the most famous goal in Mexico history to date to ice the match and break the hearts of the Americans. The match ended 4-2.
Why Mexico Will Be Dominant
SUCCESS: Mexico came out of "nowhere" to beat mighty Brazil in the Olympics. Now, of course, that is at the U-23 level, and I do believe Brazil has lost much of it's dominance. But, the country is riding high off a Gold Medal, a Gold Cup, and a Pan American games title all within the last 14 months.
COACH: Ever since Jose Manuel de la Torres took over in 2010, he has led Mexico to an utterly ridiculous 16-4-2 record in international matches, only losing to Brazil and Colombia.
YOUTH: In addition to the U-23s winning the Olympics, the U-17s have won the World Cup in both 2005 and 2011, and the U-20s came in 3rd, losing to Brazil.
EXPERIENCE: Since 1994, the Mexicans have made it out of the group stage every single time in the World Cup. However, they have yet to the quarters since 1986. Chicarito, Dos Santos, Hector Moreno, and Barerra have all got a World Cup under their belt. Andres Guardado will be 27 in 2014, and it will be his third. This combined with the youth and elder statesmen Rafa Marquez, Carlos Salcido and Gerardo Torrado could spell danger for any team standing in their way.
PASSION: The fans are some of the absolute best in the world. Anytime you walk into the Azteca, do not expect to win. They are loud and passionate, they literally live and die with El Tri. They are extremely well-traveled as well, and bring hell to any stadium, anywhere. The players reflect that passion on the field as well, always playing their absolute hearts out.
US-MEXICO PREDICTION
While at times Jurgen Klinsmann has looked like he knows what he's doing, he is still swapping through different lineups every game, developing players rather than going for victories. To his credit, he posts an 8-3-5 record, however, there is no excuse for only winning 3-1 against Antigua and Barbuda, and drawing 1-1 against Guatemala in World Cup Qualifiers. When the US played Brazil, they were absolutely smacked. It was men against boys. When Mexico faced off against the 5-time World Cup champs, they got out to a 1-0 lead before narrowly losing 2-1. It was a highly competitive match, and Mexico has gotten better since.
This match is in the Azteca, and the Mexicans will be loud and proud. The US has been absolutely dominated in Mexico, sporting a lifetime 0-1-23 record there, and hasn't scored more than one goal since 1949 (The three times they did, they lost 6-2, 7-3, and 7-2.) Nothing is going to change Wednesday night.
MEXICO 4
USA 1